The aim of Dental Research Journal (DRJ) is to keep its readers informed of research, clinical developments, clinical opinions and treatments as well as other key issues of relevance to dentistry.
The journal is visible in Thomson Reuters ISI Web of Knowledge and is indexed by PubMed, PubMed Central, Chemical Abstract Services (CAS),

Scopus,

CINAHL, DOAJ, EMCare, EMRO, Google Scholar, Index Copernicus, Scirus (Elsevier), Iran Medex, Magiran, Microsoft's Live Academic, New Jour, ISC, and

SID.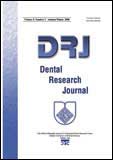 Important Features:
· Immediate Open access articles
· Manuscripts online submission system
· Fast reviewing system of manuscripts
· Free access to the full-texts for all authors and reviewers
· Publication of different types of articles (original research, systematic review,
literature review, case report, and letters to the editor)
· Publication of Basic and Clinical papers in the fields of dentistry from all over the world
Publishing Company: Wolter Kluwers-Medknow
Announcements
Publication Fee

This is to inform our contributors and readers that Dental Research Journal (DRJ) is implementing a publication fee for manuscripts from May 1, 2014.

The following is the payment plan for our contributors:

3,000,000 Rials/100 USD for Original & Review articles, 2,000,000 Rials/70 USD for Case Reports & Short communications to account No 580120000000004975761007 [SHABA] of Mellat Bank. Letters & Editorials are Free.

Please include the specific code for DRJ (341130000000036) on your bank receipt.

Kindly send a scanned copy of your receipt to the journal via drj@dnt.mui.ac.ir

Contributors out of Iran can electronically pay through secure Medknow, Wolters Kluwer submission portal.

There will be a 50% discount of publication fee if either the first or the corresponding author (or both) is affiliated to Isfahan University of Medical Sciences (IUMS).
Posted: 2014-05-31
This work is licensed under a
Creative Commons Attribution 3.0 License
.
ISSN: 2008-0255